Open source SQL client
made to be simple.
A modern, fast and productivity driven,
forever 100% free solution with a focus in UX.
Download Antares
About Antares Project
A new star is born, and is growing fast.
Antares
is an SQL client that aims to become an useful and complete tool, especially for developers.
The target is to support as many databases as possible, and all major operating systems, including the ARM versions.
At the moment this application is in development state, many features will come in future updates, and actually supports
MySQL/MariaDB
,
PostgreSQL
,
SQLite
and
Firebird SQL
.
Most of its current features are enough to have a pleasant user experience with supported databases, so give it a chance and
send us your feedback
, we would really appreciate it.
Simple, but complete
Features in the right places,
not hundreds of tiny buttons or submenu.
Antares SQL development is driven by the idea to create a full featured tool, fast and with a modern and intuitive UI.
All features are accessible with a few clicks, without having to search for them in dozens of drop-down menus; productivity comes first.
Autocomplete or format your queries
Built-in autocomplete and database suggestions
will speed up the writing of your queries.
Thanks to the auto-completion functions and the suggestion of database elements write queries will be a pleasure.
With the formatter function the queries you write will be even more readable.
All data you need
Fill your test tables
with a massive number fake random data.
Antares SQL integrates a table filling function that allows you to generate a large number of fake data to be chosen from different categories, such as names, addresses, dates, texts or financial data. This feature will help you set up your development environment, saving you valuable time.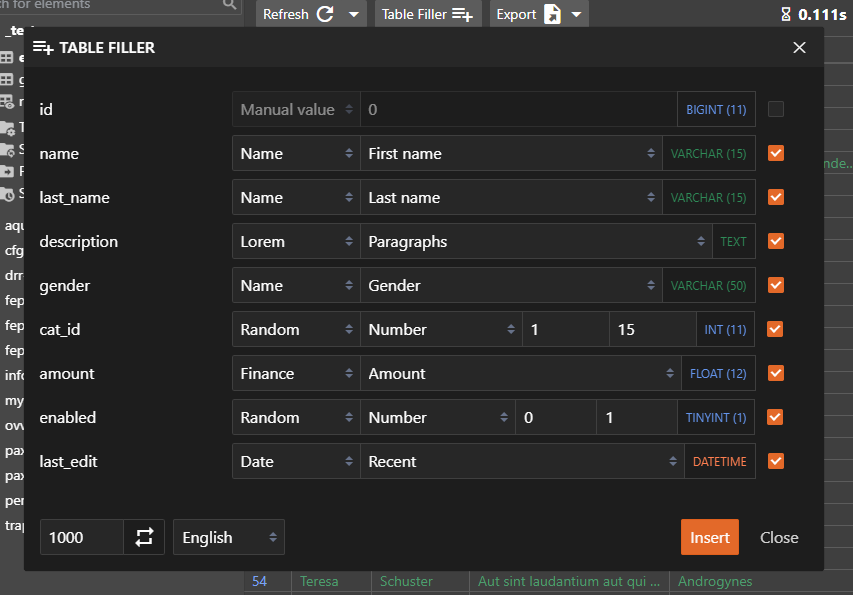 FREE AND OPEN SOURCE
No paid content, subscriptions or ads. Antares will be always 100% free and open source.
NEW FEATURES COMES
Antares is a constantly developing project and we try to implement new features with each update!
COMMUNITY DRIVEN
We pay close attention to our users' feedback to create a useful tool for the community.
PRIVATE
No spyware, telemetry or other sort of background activities. Spontaneous feedbacks are enough.
Supported Databases
Antares SQL is in a beta phase but it fully supports MySQL/MariaDB, PostgreSQL, SQLite and Firebird SQL. Support to other databases will come in future releases.
MySQL & MariaDB
Fully supported
PostgreSQL
Supported
SQLite
Supported
Firebird SQL
Supported
SQL Server
Coming